Pompey's Pillar in Alexandria, Pompey's Pillar area in Alexandria
is one of the most famous sights in the city and in Egypt as a whole.
This region is located in the west of Alexandria.
And it is visited by large numbers of foreign tourists or Egyptians.
This column was built over the hill of Bab Sidra.
precisely near the region of Kom el Shoqafa.
The length of this column is about 27 meters.
It is made of red granite.
It was built to commemorate Emperor Diocletian.

In the third century AD.
This column is the highest memorial in the world.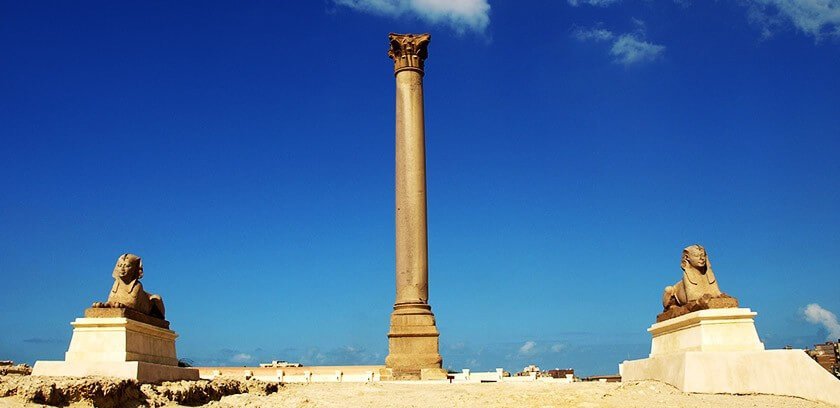 Serapeum Temple
Pompey's Pillar is considered the last remaining traces of the Serapeum Temple.
This temple was founded by Emperor Postumus.
So far no date has been set for the construction of this column.
But it is certain that Pompey's Pillar was built in the Roman era.
Initially, the Serapeum Temple was named after the Alexandria Palace.
Later the temple was completely demolished in the twelfth century.
This column was the center of a group of 400 other columns.
But many of them were dumped into the sea in 1167, further fortifying the city.
Also read: Alexandria Library and the most important activities
Pompey's Pillar in Alexandria
This column is made of red granite.
It is approximately 27 meters in length and consists of one piece.
This column was built by the Alexandrians.
and dedicated to the Roman Emperor Diocletian.
To the north of this column, there is a sphinx statue
made of pink granite dating back to the era of Ptolemy VI Philometor.